Registration Opens June 12th!
Join the Latah County Library District June 12 – July 27 for a fun Summer Reading Program for all ages! Register at your local branch to participate in our reading challenge and join us for fun events! Our Summer Reading Events this year will be a combination of in-person performers (at your local libraries and throughout your community), in-person programs, passive activities & to-go activities.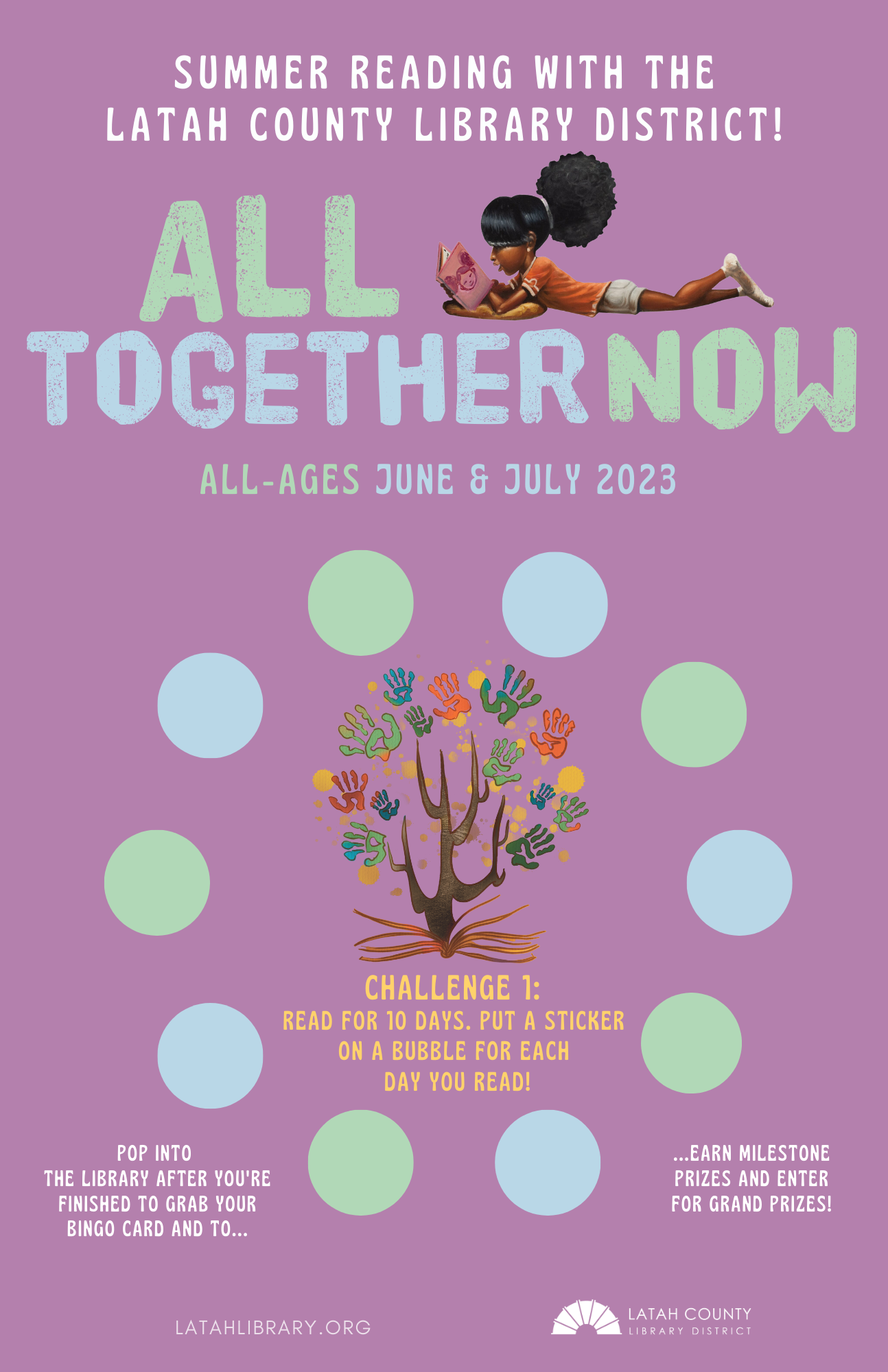 Need a copy of 10 Day Reading Challenge or Bingo? Download here!
2022 Summer Reading!
2021 Summer Reading has ended, check back in Spring of 2022 for details of our next Summer Reading Program.
In the meantime, check out other programs on our Event Page.
Past Summer Reading Programs
Have a look at fliers and videos from previous summer reading programs at the Latah County Library District!
Summer Reading for all ages—Join the fun with your local library this summer!
Our Summer Reading Program helps keep kids from falling victim to the dreaded "summer slide," when children can lose important academic gains they made during the school year. Children enjoy skill-building activities, engaging performers and rewarding reading challenges to help them bridge the gap between months out of school while celebrating the love of lifelong learning.
But hey, Summer Reading is for adults, too! Catch up on reading while enjoying summer activities and relaxation. Summer Reading is a terrific way for families to interact around a love of reading. And adults who read provide a good model for their children.
Summer Reading FAQs
How do I register for Summer Reading?
Register ONSITE at your local Branch of the Latah County Library District beginning June 13th and pick up a registration kit.  POP into you local library after each completed challenge to claim your milestone prize and enter to win grand prizes. You'll find more information on how to participate at your local Branch.
How many days do I need to read to finish Summer Reading?
Track your reading for at least 10 days. After that, start working on your Bingo Card!
What do I get for completing a Challenge?
Check in at your local Branch (or at the Moscow Public Library if you registered online) to fill out a short form as you finish each Chapter to be entered to win a Grand Prize. While you're there, grab yourself a small incentive prize! The first day that anyone will be eligible to complete Chapter 1 is Wednesday, June 22 (10 days after SRP starts!).
How do I track my reading?
A: Pick up a registration kit at your local Branch of LCLD which will include a 10 Day Reading Log and stickers. After you complete your 10 Days of Reading, pop back into your library to grab a Bingo Sheet. You can also download and print a 10 Day Reading Log and Bingo Card from our website. You are free to use any other method of tracking you prefer. The library will not be collecting your Reading Log or Bingo Sheet.
Do I need to register for Summer Reading to participate in Summer Reading Events?
Nope! All Summer Reading events are open to the public!. Check with your local Branch for details on each event, including targeted age group, whether registration is required for that particular event, and what kind of restrictions are in place.
Do I need to participate in Summer Reading Events to complete Summer Reading?
No. All you need to do to complete Summer Reading is read for 10 days, complete a 5 in a row bingo, and complete a bingo blackout by July 27. As you complete each challenge, fill out the Prize Entry form at your local Branch for a chance to win fun prizes. 
Are there prizes this year?
Yes!  As you complete each challenge, fill out the Prize Entry form at your local Branch for a chance to win fun prizes